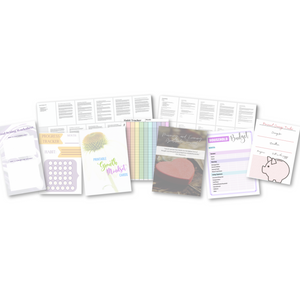 Growning Your Mindset
Regular price
$19.99
Sale price
$9.99
---
This Bundle Will Help You achieve a positive growth mindset.
When it comes to personal growth and learning, we can have one of two mindsets. A fixed mindset or a growth mindset.
They refer to the underlying beliefs and notions we have about approaching new material and dealing with the unknown.
But what it really boils down to is how you approach the challenges life throws your way.
Do you see them as obstacles and do what you can to avoid them? Or do you use them as a chance to grow and get better at what it is you do?

That difference is one of the reasons it's important to develop a growth mindset. It helps you make progress, get better, and - as the name implies - grow as a human being.
To put it another way, it's up to you and the mindset you develop whether you're stuck where you're at right now, or whether you can motivate yourself to make progress and move up in the world. I think it's fair to say that none of us want to feel stuck.
What you will get in this bundle 

31 Day Progress Tracker-
 Progress tracker to help you reach your goals and achieve serious personal growth. 
Goal Setting Worksheets- 
To achieve meaningful growth, you have to have goals. Without them, how would you measure progress? These beautiful goal-setting worksheets will help you do just that. 
Growth Mindset Card Deck- These card decks will help you with your growth mindset. 

Habit Tracker- Real, lasting change happens when you create better daily habits. This simple, but oh-so-effective habit tracker will help you stay on track and reach your goals. 

Household Budget Planner-
Being a better steward of household finances is a goal many strive for. This comprehensive budget planner will help you do just that. 
Morning and Evening Gratitude Journal Pages- There is something about counting your blessings.  
Personal Savings Tracker- Personal growth often involves reaching financial goals. This personal savings tracker printable will help you track and reach your financial goals. 
Simply download your files, print them at home, at your local print shop,
or upload the files to an online printing service.


LEGAL INFORMATION PLEASE READ

All designs are for your personal use only.
You are welcome to print as many copies as you like for yourself.
The designs cannot be used for any commercial purpose whatsoever or resold either in print or digital form.
Because my products are digital, I do not offer refunds.
When you purchase this file you are licensed to use this file for PERSONAL USE ONLY.
You may not copy, reproduce, share, or transfer any of the files to a third party.
The graphics and designs are the property of Edy's Treasures and items cannot be reproduced or copied for any reason without my permission beforehand.

How the file works:
~ purchase this listing
~ then after payment is confirmed you will then be taken to the download page
~ click "Download", save the file to your computer, print, and enjoy!

Thanks for looking
The Growning Your Mindset is far and away, one of our most popular items. People can't seem to get enough of it.

Inventory Last Updated: Oct 03, 2023